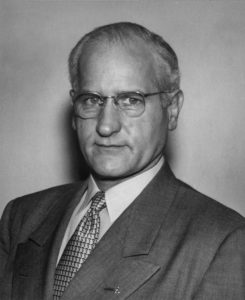 By John I. Taylor, first OKFB president, and published in the Oklahoma Farm Bureau Farmer in December 1951
I am a human being living in a land of unlimited horizon. Having been born here, or journeyed here by choice, matters little, but the fact that my life and living are here is of great importance.
The obligations to my country are few–to vote; to defend its soil; to help make its laws; to obey laws; to render judgment upon offenders; to pay a share of the bills; and to do such other things as will promote peace, harmony, and the general welfare.
The privileges are many–to speak freely; to meet unhindered; to worship openly; to travel at will; to work at tasks of my choice; to play at my convenience; to visit and be visited; to love and be loved; to accept rewards for merit and practice charity.
Oft' times these obligations are forgotten and these privileges taken for granted. To forever maintain the latter, a solemn pledge must be taken, and vitalized to fulfill the former.
As a Farm Bureau member, I am willing to assume such a vow and extend my influence, by precept and example, to other people and groups, so that our heritage may be transmitted unimpaired to posterity.
Morality, selflessness, and vigilance are watch-words to be my guide, and labor to do the task will be my aim.
The bonds of tyranny shall not be my lot nor that of any free man, so long as God shall grant me strength to do his will, and to cherish my full duty of American citizenship.