Oklahoma Farm Bureau is celebrating 75 years of providing a voice for Oklahoma's farmers, ranchers and rural residents. With a strong tradition of supporting agriculture in our state, we are taking a moment to look back at the achievements and progress our members have accomplished since our organization's creation in 1942.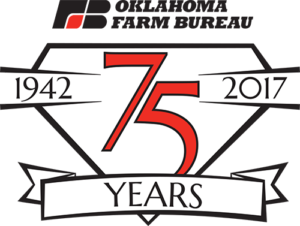 This website serves as a clearinghouse of information on OKFB's history. Throughout 2017, our staff has been reviewing our archives of newsletters, photos and correspondence to unearth treasures of information on our past. We will be sifting through these archives and posting stories from the annals of Farm Bureau for months to come.
This website is a constant work in progress as we gather more stories, discover more information and unearth more photos. Please be sure to check back as we will be posting updates and making additions throughout the year.
If you have questions, or if you have your own story you would like to share with us, please contact us through the form on this site.
Thank you for your interest in OKFB, and we hope you enjoy this site as we celebrate our diamond anniversary.