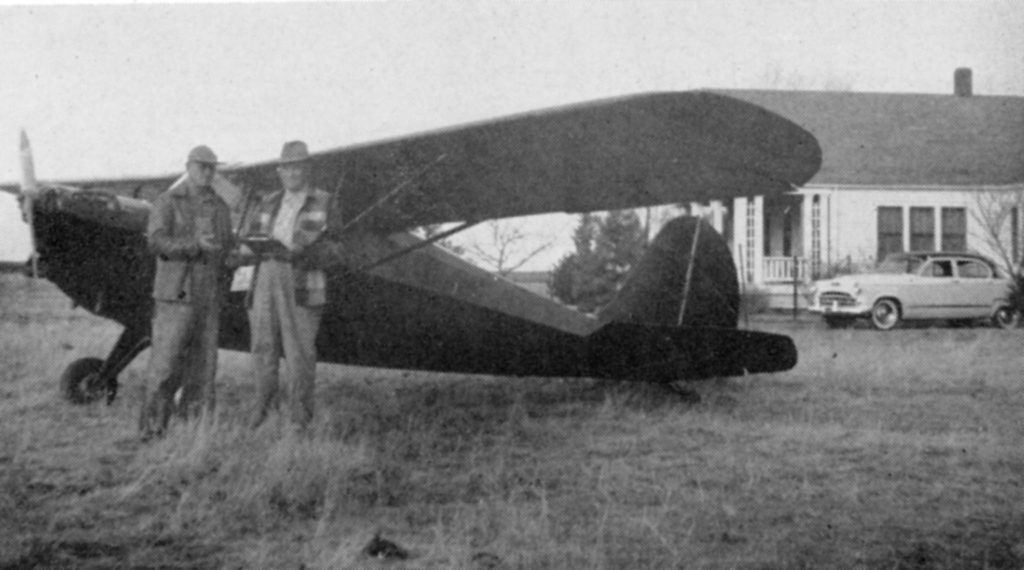 Did you know Grant County Farm Bureau once had an agent who sold insurance by air? Stanley Smrcka was featured in the May 1953 Oklahoma Farm Bureau Journal for his unique, high-flying techniques. Read more about Smrcka and his farming background in the published article below.
"Three years ago Farm Bureau folks were having a tough time getting through the snowdrifts to Tulsa for the annual meeting. Bus service was virtually at a standstill. Parts of the state were cut off by ice and snow. Air traffic to and from Tulsa was grounded by fog.
"So it was that everyone was surprised when Stanley Smrcka made his appearance in the convention hotel. In spite of the thick fog and heavy snow, he had flown his light plane from his farm home in Grant County to the Tulsa airport, following highways and hopping trees and telephone lines all the way, to attend the Farm Bureau convention.
"Smrcka, a Flying Farmer since 1945, has been tinkering around with airplanes since 1928, and has been tinkering with things mechanical all his life. In fact, he built an airplane even before he had flying lessons. His homemade monoplane got off the ground and soared a few hundred feet; then would go no higher. Seems the two cylinder motorcycle engine was not powerful enough to rev up.
"He had not forgotten the urge to fly, but had to wait about four years to do much more. In 1943, he really got the "bug" again, bought his first plane in 1945, and now has three in flying condition, plus two more half-planes which he uses for spare parts.
"It was natural that Smrcka the tinker would help Smrcka the farmer. In 1947 he made a spray rig for his old Stearman biplane, and now does some custom spraying for his neighbors.
"The prolonged snowstorm of the winter of 1948 stopped Uncle Sam's mail service for a few days, but Stanley and his neighbors got theirs on schedule. Smrcka turned flying mailman, landing on the snow-covered fields to pick up mail and deliver incoming letters and parcels.
"The Smrcka farm also shows the touch of the tinker. A farm pond near his home has just been deepened and the dam made higher. Of course Stanley did it himself, with a dozer blade he made for his diesel tractor.
"For several years, his farm was electrified by a windcharger he built himself. Now he has REA, but keeps his charger for emergencies.
"Most of his farm implements have been converted to hydraulic controls. Smrcka did all the engineering and welding himself. He just rebuilt an engine for his Ford. He has even made his own propellers for his planes. Right now, he is working on a water pump. In short, when he needs some repair work for anything on the place, he does it himself.
"Stanley is probably the only OFB MICO agent who sells insurance by air.
"Stanley and his wife and two daughters, Alice and Marianne, live a dozen miles north and west of Medford, and farm about 640 acres, including pastures. He raises wheat, oats and alfalfa, and currently has 27 head of Herefords.
"The flying farmer has been a member of the Grant County Farm Bureau since 1946, and is currently serving on the legislative committee."