1977 – 1993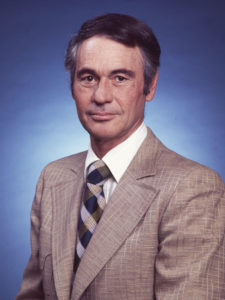 Osage County rancher James L. Lockett became the fourth president of Oklahoma Farm Bureau in 1977. Lockett devoted much of his time to his cattle enterprise: a 4,000-acre ranch located in the grassy, rolling hills of central Osage County that produced up to 400 steers for the feeder market annually. Lockett was a 1951 Oklahoma State University graduate who studied business administration.
During his presidency, Lockett strongly believed in the organization as a voice for farmers and ranchers across the state and encouraged members to be involved in every aspect of the grassroots policymaking process. With the second-longest term as president, Lockett led Oklahoma Farm Bureau through several farm crises and fought in support of farmers and ranchers through a variety of legislative battles at the Capitol.
Originally elected to the Osage County Farm Bureau Board in 1967, Lockett served in several capacities until his election as county president in 1972. He was first elected to the OKFB Board in 1975 and was selected to serve as vice president.
Photos of James L. Lockett as Oklahoma Farm Bureau President