1953 – 1975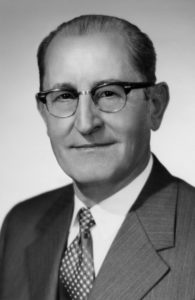 A farmer from Alfalfa County, Lewis H. Munn was elected to serve as the second president of Oklahoma Farm Bureau in 1953. Munn's family had moved to Oklahoma in 1910, settling near Helena. Munn helped his father farm until he finished school, when he started farming on his own.
Munn was a long-standing member of the OKFB Board, starting with the first board formed in 1942. He served eight years as secretary, one year as vice president and 22 years as president. Before he was elected president, Munn also served on the Alfalfa County Farm Bureau Board as secretary, treasurer, vice president, president, special insurance agent and general insurance agent over a span of 11 years. Munn also assisted management in enlisting and training agents for the Oklahoma Farm Bureau Mutual Insurance Company from its beginning.
During his term, he served as a member of the Board of Directors of the American Farm Bureau Federation for 17 years. In addition, he served as chairman of the AFBF Southern Region Presidents and Secretaries Conference for 18 years and the AFBF Resolutions Committee for 22 years.
Photos of Lewis H. Munn as Oklahoma Farm Bureau President