2013 – Present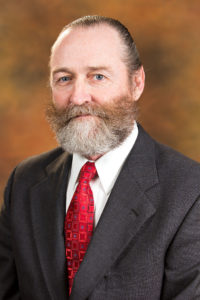 Jackson County farmer-rancher Tom Buchanan was elected president of Oklahoma Farm Bureau in 2013 at the organization's 72nd annual meeting.
Buchanan runs a cow-calf operation and grows wheat and irrigated cotton on his farm near Altus. He also raises cattle in a family partnership with his brother and sister. Buchanan serves as the general manager of the Lugert-Altus Irrigation District and represents irrigation water use interests as vice chairman of the Oklahoma Water Resources Board.
Buchanan has been active on the Jackson County Farm Bureau Board for more than 20 years, representing the county on numerous state Farm Bureau committees. He also served on the OKFB Board for six years representing District 2. Buchanan is a 1974 graduate of Altus High School. He graduated from the University of Oklahoma in 1979 with a Bachelor of Arts degree.
Photos of Tom Buchanan as Oklahoma Farm Bureau President